Kratos: Take Over #3
By: T.L. Smith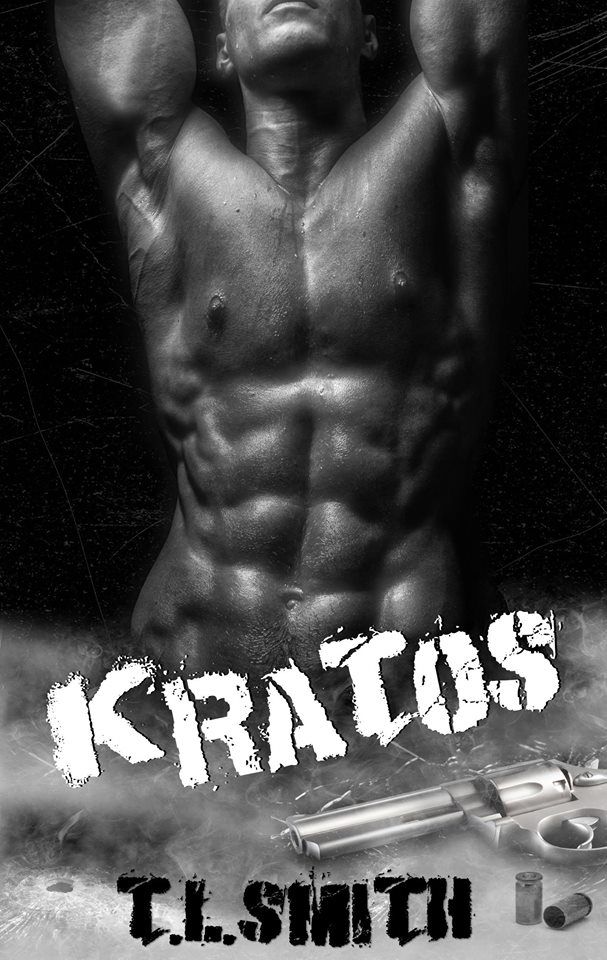 You think you know whom I am…
so lets get a few things straight….
I didn't get involved in relationships.
Relationships are for the weak,
plus it's leverage for your enemy's
and I have plenty.
But that's all changed. When a strong willed woman, with the mouth of a sailor walked into my life, wearing tiny shorts, which displayed her beautiful long legs and round ass. I thought I could play with her and maybe get my fix. But when she spoke I knew that wasn't going to happen. She is full of life and one scary ass little woman. I knew right away I had to have her and would do anything to keep her.
She owns my soul; she owns my demons, every part of me is owned by her.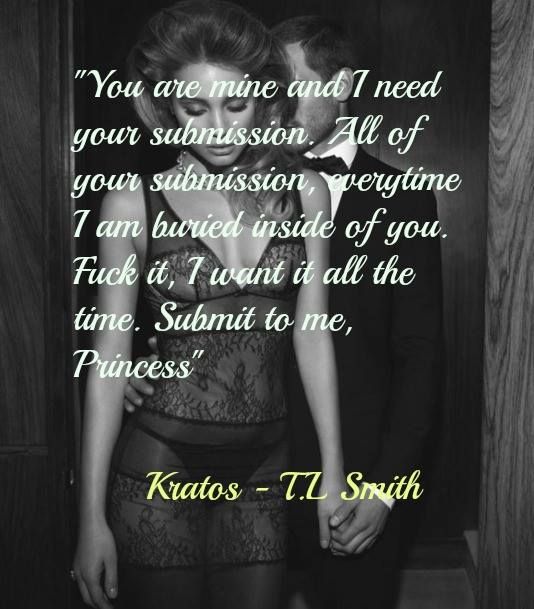 Review
Wow, this book is full of surprises. If you think Eliza is going to just sit back and be pregnant you didn't read the other books did you? This book has a little back flash to the past and then picks up with Eliza's kidnapping. Who did it and why?
As always Eliza will surprise everyone. She's a tough woman and can handle her own. The problem for Stephanos has always been whether he could contain her. There's the questions of her working while pregnant, after the baby, and the couples future.
Stephanos is a dream for all of us girls who grew up fantasizing watching the mob movies. He's a dominate Alpha and will do everything to keep what's his safe. Of course, Eliza is the female version of himself. Can he get her to submit to him though? Will they live happily ever after or will she gut him?
I love, love, love this series. This is a passionate group of people. They love fully in family, in lovers, and in friends. They take their business very seriously and your either respected or your dead. I really wish this wasn't the last book, but it seems that it is. Books with truly kick-ass women and Alpha males are hard to find. There are plenty of imposters, but they don't have what it takes to back it up like these characters do.
This book is a great 5 star read. These series is amazing and I'm sad to see it end. I'll be stalking the author to see what she has coming up next.


T.L. lives in Brisbane, Australia with her 2 children. She started writing because of her love of reading. She used to doodle with ideas when she was younger, but never wrote too much. Her life dream is to be a full time author. If you ask her if she is like her characters, she says, "I am like both of the characters from my two book series. I think I have put a bit of myself in both….Krinos tends to say things without thinking, I do the same. She also rules the roost, and I do the same in my household." Her celebrity crush is Chris Hemsworth, she loves chocolate ice cream, her biggest pet peeve is nails on a chalkboard., and she is not a fan of having her photo taken. She loves being part of the Indie Book world, and has made some amazing friends along the way. But, she acknowledges she could never do what she does if it wasn't for the bloggers that pimp her and the fans that support her and read her books.


http://tlsmithauthor.wordpress.com/?blogsub=confirmed#blog_subscription-2
https://www.facebook.com/pages/Author-TL-Smith/632113250202244

https://twitter.com/LsmithT

https://plus.google.com/u/0/102802892312606092823/posts

Amazon Author Page
http://www.amazon.com/T.L-Smith/e/B00JE9C7ZY/ref=sr_ntt_srch_lnk_1?qid=1403039694&sr=1-1-spell

Amazon:

Before I met Krinos I wasn't a man of many words. I did my work, fucked plenty of women and slept alone every night. That's the way I liked it. I didn't need a clingy, bitchy woman in my life trying to rule me and telling me what to do.
My life is not suitable for a woman. I deal in drugs, guns and other things that should not be mentioned. I've had my fair share of women thinking they could change me after one night, but obviously they don't know me. They only wanted the power and orgasms I could give them. You see my mouth alone would make you scream, and I promise you would never think of another man for the rest of your life. I'm, just that good.
Women just don't seem to understand, that just because we find you good looking and pick you up at a bar does not mean you are going to get any more than the best fucking night of your life.
And then I met Krinos…. Well, how do I describe a woman with the mouth of gangsta and the body of a model, but the fist of a boxer. I still don't think I could describe her appropriately to this day. She made me want that sappy lovey shit and she made me want her without even doing anything. She has just consumed me….
She fought me on it, but I knew I would have her, consume her, and keep her soul for the rest of our lives, as she has mine.